NAYA: Legend of the Golden Dolphin (2015)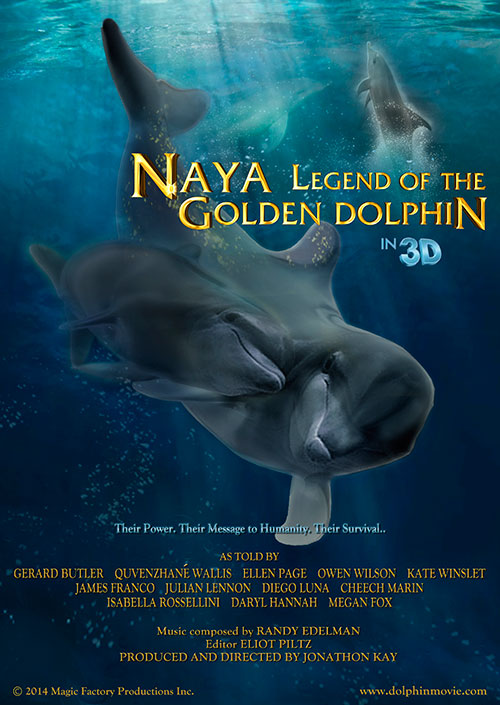 In Theaters: 1 January 2015 (USA)
Genre: Fantasy
Rating:
Director: Jonathon Kay
Writers:  Katie Ford, Jonathon Kay

Synopsis:
NAYA LEGEND OF THE GOLDEN DOLPHIN takes you on an exciting adventure into the lives of dolphins across the world.
With breathtaking cinematography, the incredible beauty and staggering you are there adventures of the dolphins are documented in the oceans of South Africa, New Zealand, Canada, Mozambique, Australia, Bimini, Hawaii & in the Amazon River of Brazil in this extraordinary 3D documentary.
Predators hunt them, pollution of their environment endangers them, but these intelligent beings continue to survive as the guardians of the sea.
The film is narrated by a wonderful cast including:
KATE WINSLET, GERARD BUTLER,
QUVENZHANE WALLIS, OWEN WILSON, MEGAN FOX, ELLEN PAGE, JULIAN LENNON, DIEGO LUNA,
CHEECH MARIN, WHOOPI GOLDBERG,
DARYL HANNAH, ISABELLA ROSSELLINI
and JAMES FRANCO.
NAYA LEGEND OF THE GOLDEN DOLPHIN has an amazing sound track featuring the music of THE ROLLING STONES("BEAST OF BURDEN"), JOHN LENNON ("IMAGINE"), THE EVERLY BROTHERS ("ALL I HAVE TO DO IS DREAM") K D LANG ("CONSTANT CRAVING") & IZ ("SOMEWHERE OVER THE RAINBOW").
For the very first time in cinema, Director and Producer JONATHON KAY brings to the screen this enchanting film about nature's most wonderful miracles.
Not Available for Sale Yet.