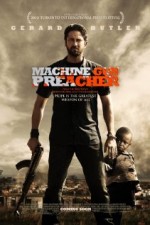 Source: L.A. Times Author: Nicole Sperling
Published in L.A. Sunday Times:  4 Sept. 2011
Gerard Butler is crying.
It's a sunny afternoon and the actor best known as King Leonidas in "300" had just sauntered into a Los Feliz eatery, fresh off his Harley, adorned in a black T-shirt, army green pants and a helmet tucked close to his newly trim body. He's charmed the wait staff, ordered a salad along with his café latte so his guest won't have to eat alone, and is affably sharing anecdotes. Yet the moment he revisits his time in South Africa, playing Sam Childers, the real-life gun-wielding preacher who went to the Sudan and started an orphanage, his emotions can't be contained.
"This happened to me a lot when we were filming. I would just be overcome," he says through tears. "I feel every emotion. I haven't talked much about this movie in a while, and I did the other day, and I just started crying. I cried for about five minutes."
This time Butler's crying jag lasts a good two minutes.
"I don't know how I'm going to get through this," he says with a laugh while wiping his eyes as he ponders the exhaustive national media tour he's about to embark on to promote his upcoming passion project "Machine Gun Preacher," which opens Sept. 23.
Directed by Marc Forster ("Quantum of Solace"), "Preacher" forced Butler to examine his own demons as he embodied the violent, rageful Childers, a rural Pennsylvania native who transformed his drug-riddled, crime-filled life after finding God. Childers' born-again experience led him to becoming a preacher in his hometown before traveling to Africa, where he came upon hundreds of children orphaned at the hands of the Lord's Resistance Army, which was staging a violent campaign throughout Uganda, Sudan and the Congo. The atrocities propelled Childers to found an orphanage in Sudan in 1998 that now houses more than 200 children and feeds more than 1,000.
"A lot of the feelings I felt with Sam, the violence and the craziness, being out of control and not knowing how to live your life, I had all that," says Butler, who remade himself as an actor after his unhappiness with his first career as a lawyer led him to use alcohol and drugs. "Did I go around stabbing people and shooting people? No. Did I end up in Africa building an orphanage? No. But I did have a massive transformation in my life where I sorted everything out."
For Butler, who from July 2009 through March 2010 starred in what "could have been a career killer" five movies (including "The Ugly Truth" and "Law-Abiding Citizen"), the commitment to the part of Childers began a year before the cameras even started rolling. The 41-year-old Scot would sporadically meet with Forster and screenwriter Jason Keller for marathon sessions to deconstruct each scene. It's clearly a movie that affects him deeply but also one that allows him to "gain some gravitas and weight as an actor," he says.
It was also a unique experience for Keller to work so closely with a film's star.
"I think it was a great responsibility for Gerry to play the role of a guy who is alive, a guy who is as dynamic as Sam with a story that's so incredible," says Keller. "During the sessions, and even when we were filming, I saw him going deeper and deeper [into the role]. It was an incredible burden [for him]."