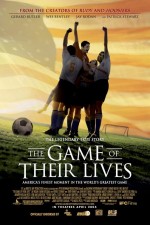 Source: Guardian, UK
Originally published: Thursday 13 March 2003 15.40 GMT
Hollywood is planning a film about underdogs triumphing at the World Cup. Sadly not England, but the USA, in the true story of their victory over England in 1950.
The Game of their Lives tells the story of the US team that beat the English in a surprise victory at the 1950 World Cup. Wes Bentley (the boy next door from American Beauty) and Scotland's Gerard Butler (who had a supporting role in Reign of Fire) will star.
The US side were a 500-1 shot in the tournament, but managed to beat the English 1-0, despite having a team comprised of mostly amateur players.
David Anspaugh will direct a script by Angelo Pizzo – the two previously worked together on the sports dramas Rudy (American football) and Hoosiers (basketball). Bentley will play Walter Bahr, the defender who set up the winning goal, and Butler stars as goalkeeper and captain Frank Borghi. Anspaugh told Variety that he was impressed by the pair's "enthusiasm to start training immediately".
In 1950, the Americans went on to lose 5-2 to Chile, and Uruguay won the World Cup.