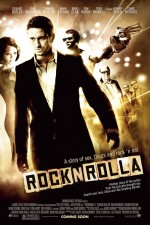 Source:Guardian, UK Author: Ben Child and agencies
His much-discussed return to the gangster genre may have divided the critics, but it seems that crime really does pay when your name is Guy Ritchie. The British director's new film RocknRolla opened at No 1 at the UK box office at the weekend, with a barnstorming £1.5m from six days.
The figure compares well with Ritchie's less well received 2005 film Revolver, which made £880,000 on debut. His previous feature, the Madonna-starring 2002 effort Swept Away, made a negligible sum after terrible reviews.
RocknRolla spins a complex web of heists, betrayals, land schemes and political payoffs in a London peopled by old school Brit gangsters, wide-eyed small-time likely lads and rich Russian mobsters, as well as a beautiful but devious accountant and a junkie rock star.
The ensemble cast includes Gerard Butler, Tom Wilkinson, Thandie Newton and Mark Strong. Ritchie has said that he intends to make a second film immediately if the film is a success, with tentative plans for a trilogy.
RocknRolla's real challenge could yet be in the US, where it is due to open on October 8, however. It was reported recently that Warner Bros planned to open the film on fewer than 800 screens, a figure which would suggest that it is not being seen as a major release. Studio president and chief operating officer Alan Horn described it as "a well-made picture", which was nevertheless "very English".
Meanwhile, Ritchie's next venture, his planned all-action version of the Sherlock Holmes story, may have secured Mark Strong, possibly to play Moriarty, according to Cinematical.com.
Current internet buzz also suggests Russell Crowe may be in line to play Holmes' nemesis, although the Gladiator actor was earlier said to have signed on to play the detective's sidekick Watson. What is known for sure is that Robert Downey Jr will be playing Holmes.