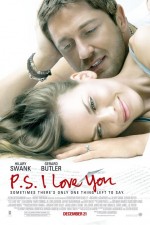 Source: Fancast Author: Andy Hunsaker
Gerard Butler hit it big in 2007 with 300, after starring in The Phantom of the Opera, and now he's on a roll. This week, he opens P.S. I Love You, a romantic tearjerker with Hilary Swank, and coming up in 2008, he's got Nim's Island with Jodie Foster and Guy Ritchie's RocknRolla, and there are even rumors that he might take on the role of Sabertooth in Hugh Jackman's upcoming Wolverine spin-off film. The guy P.S. I Love You co-star Jeffrey Dean Morgan described as "a f*ckin' nutball" talked about all of it with Fancast at the Four Seasons in Beverly Hills.
Q: So what do you think of Jeffrey Dean Morgan's mustache?
Q: He looks like he's giving a squirrel a blowjob. That was my favorite line from Mr. Saturday Night with Billy Crystal. Today, when I saw him – I haven't seen him in ages, and we're talking on the phone, and I say "I'm in Frank Sinatra's old suite!" And he was "I'm right upstairs from you, so I must be in Sammy Davis Jr.'s, my balcony's huge, I think I'm right above you!" And I go outside and I saw his mustache and I went "Christ, how long have you been in the Village People for?"
Q: Was your 300 beard real?
70 percent of it was real, and then they would put little pieces on every day, which took an hour. I'd say from about an inch and a half down off the chin was me, and then the other inch was fake.
Q: Who had the better Irish accent, you or Jeff?
Me, without a doubt. I'd hope so, I'm Scottish… but probably him. It'd be kinda sad, but I don't know. I think we probably both had pretty shitty accents, if you listen to it. (laughs) It was very funny. It's not easy as an actor to try and do accents. It really isn't, and then to act as well, and to be funny, especially in Irish – how do you do it without sounding like a leprechaun? I'm going "I'm not a leprechaun. I'm not a leprechaun." The other thing we both had to do, and this is why Jeff and I really bonded a lot – we had to learn to play the guitar, which neither of us could do, and to speak in an Irish accent. So you've never seen two people look more at each other like "what the f*ck are we doing? This is ridiculous!" We practiced all over the place. He's such a good guy, Jeffrey. He was like my long lost brother. We had a great time working together, because we're both very self-deprecating. We can both stand back and say to ourselves "really, what are we doing here?" Slag ourselves off for trying to do things that are way above our heads.
Q: Jeffrey said, quote, "Gerry's a f**kin' nutball." How do you respond to that?
I think that it takes a nutball to know a nutball. You know when you meet somebody and immediately you go "He's cool." There's no attitude there, he's just a really good, decent guy, a lot of fun. There was competition between Jeff and I in the movie, in a way, but it never felt like that in the slightest. We were both just there having a blast. He's a good guy. He's a bad boy, as well. He's worse than me. I quit the partying in terms of getting pissed up and stuff like that. I even quit smoking, the last seven months I haven't been smoking. I still see Jeff out having a beer and having a cigarette. The second screening I saw of P.S. I Love You, and he was there and he sat next to me. I loved it because he smelled of smoke, and I was like "ha ha, I don't smell like that anymore. I smell of roses and petals and you smell of smoke."
Q: You're topless again in this film. Is that something that sells for you?
It's just a coincidence. I think that, in this movie where I'm topless, it's hardly sexy. I'm standing in Chelsea boots with my socks coming up over them and Irish clover boxer shorts doing the silliest dance ever. I deliberately made it so. It's an Irishman giving his best Blarney and his best silliness. It's not a sexy moment. It truly is just coincidence. That part was written into the script. If I can get away without being topless in a film, I'd always rather not be topless because it's a pain in the ass. If you look great – one, it takes a lot of work to look that great, and then people start comparing you with either somebody else who looked great or how great you've looked before, and if you don't look great, then people start commenting on the fact that you don't look great. You're just setting yourself up for a huge amount of criticism, but I wouldn't NOT do it if it should be there.
Q: Would you do for someone what your character did for Hilary's in P.S. I Love You [sending her posthumous letters and activities to help her through the grieving process]? Do you think it's charming or creepy?
The creepy thing is interesting. I think if you look at it in the purest way, and I think that it was done in the purest way – although you could joke about the fact that they're not letting go, and oh Christ, another letter – but I think that there is something, being non-cynical if that's a word, that is very profoundly moving and hopeful about what Gerry does for her. The fact that, to him, his love is so all-consuming and unconditional that he, knowing that he's going to die, is more concerned about how she should live and the discoveries that she should make within herself. That includes finding somebody else and finding another love. There's something quite stirring about that ultimate sacrifice, to think that you would love somebody enough that you would want them to be happy with somebody else. It kinda chokes you up a bit. The very essence of this film, that it has those kinds of ideas is why, when I sat watching it – people cry the whole way through the movie, even in the bits that aren't specifically sad. Even when they're crying, because it's a very funny movie, they're laughing as well. You can't beat something that brings up those extreme emotions. When you can have somebody laughing and crying at the same time, that's the best. I think this movie has both of them in spades.
Q: Did you enjoy changing gears after 300?
Yeah I always like to change gears, and this, to just read such a lucid, smart, funny, irreverent, beautiful, moving and strangely spiritual script was great. Very refreshing for me as an actor – also, just to be able to put on some everyday, modern-day clothes and deal with everyday, modern-day situations like, you know, dying of a brain tumor, but to do something in a modern setting that wasn't historical and wasn't action. In fact, all my movies, up until this one, have been in some ways similar to that, which has been nice. I always like to change it up. I say similar, but I'm thinking Nim's Island is kind of family action-adventure and Guy Ritchie is a black comedy, but none of them are 300, I'll say that for sure.
Q: What can you tell us about RocknRolla or Nim's Island?
RocknRolla, the best way to describe it is Guy Ritchie going back to his earlier Guy Ritchie days, with even more subtlety and a bit more maturity, and yet it's still dark and violent and funny as hell. I just loved the script, and it's got such a great cast as well – Thandie Newton and Tom Wilkinson and a lot of younger, brilliant British actors that are emerging. I saw some of it for the first time last night for the first time and it's really good. It's really funny and really interesting and it looks cool. Then there's Nim's Island – Nim's Island is a hard one to sum up. It's a really interesting kid's adventure really about growing up and having to start facing some of the hardships of life, but it's done in such an imaginative way, about this little girl who lives down on an island in the Pacific with her dad. It's weird, they've kind of gone to hide after the mom died. They traveled the world for a bit, and he's a scientist and they've settled on this island. She lives a lot of her life in fantasy, in the books and classics that she's read, and her father goes off to do an experiment and gets stuck out at sea, and Jodie Foster, who's an adventure writer, finds out that she's down there and has to go down to rescue her, but she thinks that Jodie is the hero that she writes. It's very convoluted to explain it, but it's actually really funny and really sweet and an unusual movie as well. It's been a busy time.
Q: What are your next projects?
I'm in the middle of this one down in New Mexico, this movie Gamer, and then, I don't know. It's hard to work out right now because of the strike, what's gonna go, what's not, what we can work on, what we can't, but there's a few things on.
Q: Have you been approached about the Wolverine movie?
No. No, people have been saying that a lot. I talked about that a while ago, but I never actually spoke to the director or any of the producers, so that's not on the horizon.