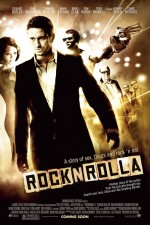 Source: Daily Record, UK Author: Rick Fulton
MADONNA played nursemaid to Gerard Butler during the making of her husband's new film.
The Material Girl turned into Florence Nightingale when the 38-year-old Scot caught a bacterial infection on the set of Guy Ritchie's movie RocknRolla.
"She was awesome," said the Glasgow actor, grinning. "She was very, very cool. 
"She played a bit of nurse to me, because I got sick in the middle of the film. She turned up with all these medications. In fact, the first day I met her, she was like, 'So you're the sick one. Take this, take this, take this.' "The infection was in my throat and chest and I was really run down.
"Madonna thought the whole thing out and helped me get better."
It's a world away from Gerard's old life as a lawyer, but it seems the Hollywood gals have a thing for the hunky Scot who showed off his six-pack body in his first big Hollywood movie, 300.
He'd already appeared in the title role of the movie version of The Phantom Of The Opera in 2004 and showed his A-list credentials alongside Angelina Jolie in Lara Croft Tomb Raider: The Cradle Of Life in 2003.
Since playing the muscle-bound Spartan king Leonidas in 300, he has melted hearts in P.S. I Love You and is currently making another rom-com, The Ugly Truth, with the stunning Katherine Heigl, star of Knocked Up and 27 Dresses.
While he finished RocknRolla last summer, it isn't out here until September. But he's since been in family adventure film Nim's Island, which was released last month.
Along with James McAvoy, Gerard is helping to tartan up Tinseltown.
Taking time out in a Los Angeles hotel, he said: "Things have been going pretty well for me and James.
"He's just setting the world on fire. But I don't know if it's just luck that it happens to be a couple of Scots just now and next week it might be a couple of English." He starts laughing. But Gerard doesn't think he and James's successes are feeding off each other.
Shaking his head he said: "I don't think my success has had any impact on James's career, and I don't think his success has had any impact on mine.
"I think maybe a while ago, when Jude Law and Ewan McGregor were around, maybe they in some way paved the way for a bigger acceptance of Scots and English in bigger Hollywood films.
"But I wouldn't say that is the case now. I don't think James is getting any roles because of me and vice-versa. I think he's getting roles because he's great actor."
Gerard was six-months-old when his parents moved from Glasgow to Montreal. A year and a half later, they came back to Paisley when his parents separated.
He has built his own home in New York but admits to feeling homesick.
"I miss everything about Scotland," he sighed. "I love it there. I love being back, but there's a reason I'm not there – my career.
"But I miss, more than anything, the humour and the countryside.
"But my least favourite thing about Scotland is that tall poppy syndrome.
"When you're travelling the world, you realise every country kind of has that. People tell you everybody has a chip on their shoulder, or they give you a hard time if you're successful, and you go, 'Really?' "Sometimes, you're back and you meet people who are just like, 'Good to meet you.
You're doing great. I'm proud of you.' You think OK, but I was waiting for you to say 'Ah, you think you're the f*****g big man?' "
And with fame comes responsibility.
Gerard has a lot riding on his broad shoulders. For a start, RocknRolla could be make or break for Guy Ritchie.
It's been 10 years since the Brit director shook up the industry with Lock, Stock And Two Smoking Barrels, but since then he's had a very mixed bag.
Snatch was good but Swept Away, his remake film with Madonna, was universally panned, as was Revolver in 2005.
ROCKNROLLA needs to be a success.
It stars Gerard as a character called One Two, alongside Thandie Newton, Tom Wilkinson, Mark Strong and Gemma Arterton.
Gerard said: "I'd best describe Guy as back to his earlier days, just a little more grown up and slick. But it's back to the Lock, Stock and this and that.
"It's about property dealings in London and how lots of people are trying to get into it, from the small-time crooks to big-time Russians, and how they fit together.
"It is just an hilarious concoction of characters. It's very clever. I've seen bits of the movie and it's so much fun. I think it's going to go down really well."
It's not just Gerard's movies that have been making headlines.
He has been linked with a string of the world's most desirable women, including Naomi Campbell, actresses Rosario Dawson and most recently Cameron Diaz, although he claims to share his life only with a tiny pug dog called Lolita. But that side of fame and the Hollywood gossip don't get him down.
"You naturally learn to separate yourself from that.
"I don't have any friends who I think are full of bull. I don't deal business-wise with anybody that's full of bull.
"There's not enough time in this life to be wasting your time with that."
Certainly, Gerard is treading the well-worn Californian healthy living regime.
He quit smoking 10 months ago and has been tea-total for a number of years after partying a lot in his twenties.
He laughed: "I think any fans of mine would probably be surprised to know how little there is to know about me.
"If they were to look in, they'd go, 'Is that it?
Wow, I expected more.' "
When Gerard grins, his easy-going nature is infectious and he lights up any room with a masculine energy.
It's certainly putting him in the right place, combining action roles with being a hunky leading man in rom-coms.
He has just finished sci-fi film Gamer, which is about death-row inmates who play an online killing game.
It shows the Scot is comfortable doing a range of movies and isn't pigeonholed into one genre. But it also means he has stopped wearing his trademark bracelets and jewellery.
He grinned: "I'm sick of doing films and constantly having to take it off. When I put it back on, I think, 'You're just a poser to be wearing this.' "So I keep it off.
I'm becoming more Spartan."
Which is probably just what the ladies want to hear.