The Phantom of the Opera (2004)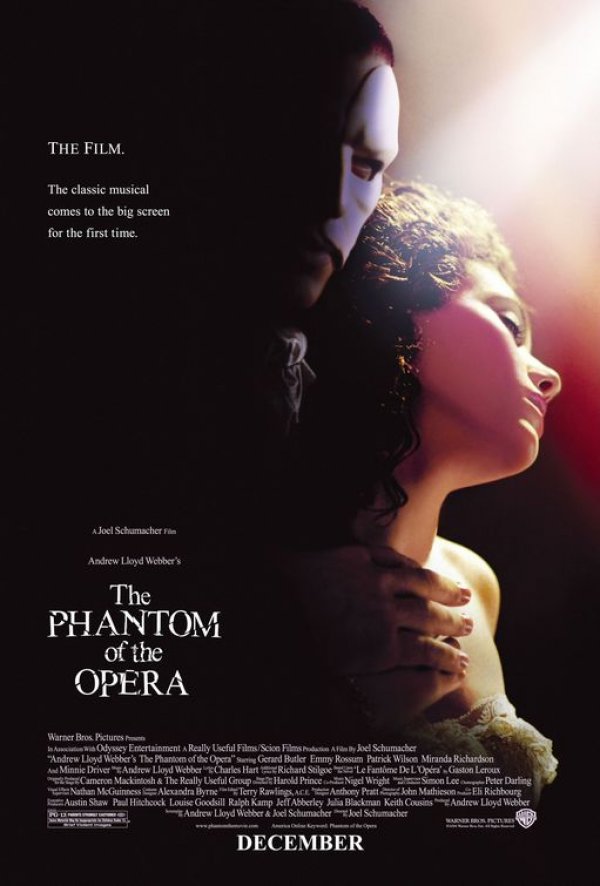 [mytabs name="Synopsis"]
In Theaters: December 22, 2004 (USA – Limited)
Rating: PG-13 / 143 Minutes
Genre: Drama, Musical, Romance
Director: Joel Schumacher
Synopsis:
Starting with a black and white prologue, the film tells the story of budding young opera singer Christine Daae and the two men who fight for her heart: the noble Viscount whom she knew in childhood, and the mysterious Phantom of the Opera.
The Phantom helps Christine to develop her voice while hiding within the walls of the Opera house.
Christine believes he is her Angel of Music, sent by her father to teach and comfort her. In truth he is deformed genius who hides his ugliness behind a mask. This Opera Ghost loves Christine and is first saddened then enraged to see her love given to the handsome Vicomte. The glorious music, sets and costumes give this brilliant film both magic and passion as the story of these three people reaches a heartbreaking finale.
[/mytabs]
[mytabs name="Cast"]
Gerry Butler as The Phantom
Emmy Rossum as Christine Daae
Patrick Wilson as Raoul
Miranda Richardson as Madame Giry
Minnie Driver as Carlotta
Ciarán Hinds as Firmin
Simon Callow as Andre
Jennifer Ellison as Meg Giry
[/mytabs]
[mytabs name="Movie Trailer"]
[/mytabs]
[mytabs name="Purchase"]

[/mytabs]
[mytabs name="More"]
[/mytabs]
[end_mytabs]
GALLERY